It's a lot of pressure doing album covers for The Melodics, I always feels like it's gotta be my masterpiece. I guess I put so much of myself in the music that I feel I need to do the same visually. We wrote a song a while back called 'Paint Me Gold' which is another one of those space-based love tunes I like writing. The title is from the lyric...
"Colour me in // paint me gold // I'll be your canvas if you'll be so bold // the black & the white is now colourful // my satelitte // got ya signal..."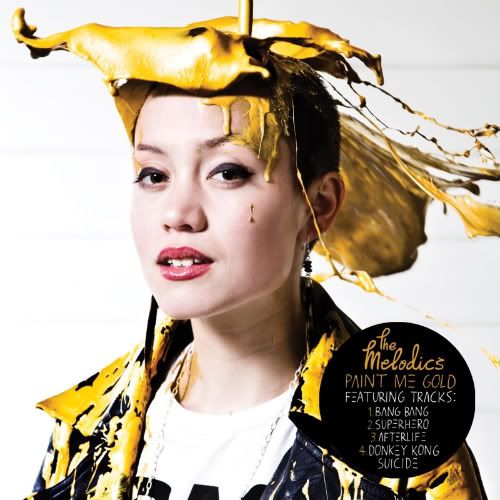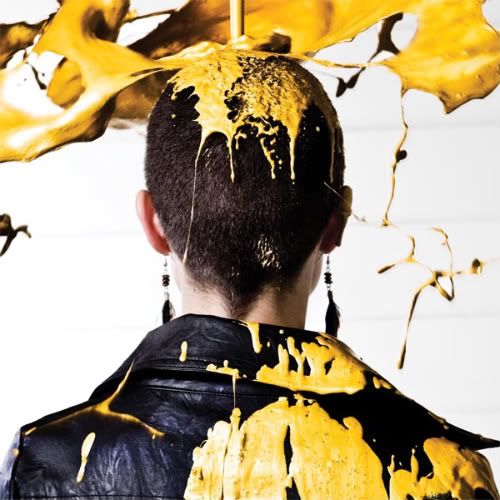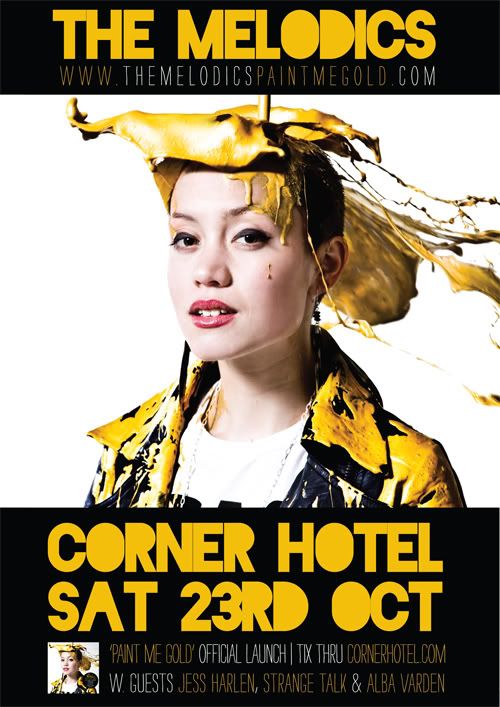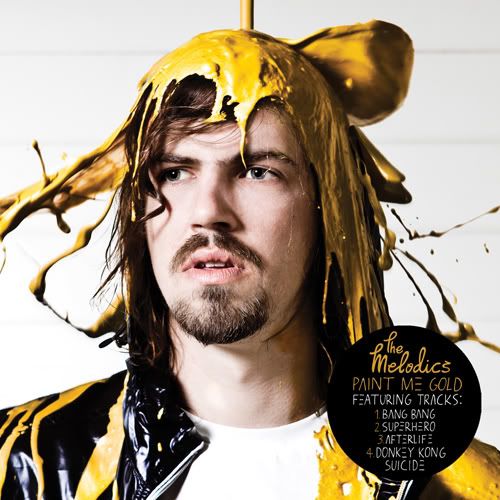 The idea came to me to call the new EP 'Paint Me Gold' even though it doesn't feature the song (it'll be on our next record). I instantly thought of the image of a woman with a shaved head staring at the viewer with golden paint falling on her head. From there came the vision of shooting a male as well, so I called up my uncle Pete to be the dude and my friend Arlene for the female. I knew she had had her head shaved but upon talking to her I found out it had been 8 months so her hair had grown out, but... she was keen to put one in for the team so we shaved her head on the day of the shoot ~ what a trooper! So anywho, the concept is that there is 2 alternate versions of the CD; a male and a female copy. Time will tell if we can do this, if you get the CD, chances are at this stage it will be the female copy. But we may just print some male ones down the track if it's popular enough (that was a hint to buy a copy).
It was a hectic shoot, that's for sure. We emptied our drummer's lounge room, put down a tarp and went to town! Thanks to all involved, particularly Nick Rieve (photography) Juleiaah (make-up) Petey & Arlene (the modeeels) Tuddy (the paint pourer and location loaner) and Tarko (the test dummy).
Here's the 1st part of the 'Paint Me Gold Sessions' a mini-doco put together by Nick Rieve, who shot the cover art... You can also see Rieve's photography at www.nickrieve.com
'Paint Me Gold' out through iTunes October 15th
...in the meantime, check out the songs at www.themelodicspaintmegold.com