This is a compilation CD that is about to come out as a free give away...
It features a group of really talented Melbourne bands including:
Illzilla
Melodics
Labjacd
San Lazaro
The Public Opinion Afro Ochestra
Diafrix
We were trying to think of a name/concept for the compilation and I came up with an idea to reference the film 'This Is England' and just call it 'This Is Melbourne.'
So I worked with the colours and type style of the movie and sketched up a Melbourne-looking kid - still with his finger up and with braces, but with black jeans, a flannel, a stetson hat and an el-coolio hair style...
I had a lot of info to work with on the back so I created a sectioned off grid to keep all the dates and info readable and not toooo cluttered. I'm really happy with this one, it makes me laugh :)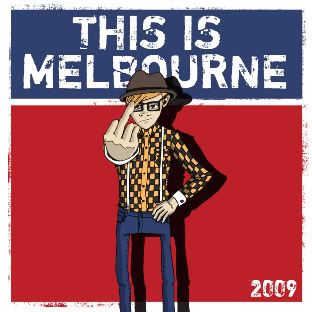 Reference For 'This Is Melbourne'